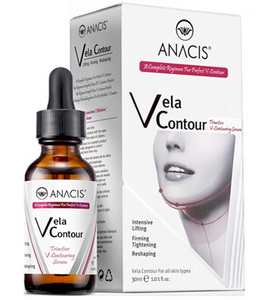 Vela Contour Face Slimming Serum
Vela Contour Serum

Revolutionary, patented anti-aging formula for tighten Neck and Double Chin skin, face and neck firming cream serum
Neck and double chin Sagging skin that lost necessary resistance is caused by damage to collagen fibers due to age, seasonal change or stress acidification of the skin and weight gain. Vela Contour activates the skin tissue with antioxidant action, makes the skin more elastic with refreshing heat, and increases the synthesis of collagen fiber to reveal the hidden V-line.

- Best active ingredients , PEPHA-TIGHT, LECITHIN 950, Hyaluronic Acid, Ginseng Extract, Peptides.
- 5% Pepha Tight tightens skin and have a long term effect strengthening the skin's connective tissue.
- You may experience heat and instant lifting as you massage the serum in stronger and longer.
- Antioxidant action activates the tissue, makes skin more elastic increases the synthesis of collagen.

Qoo10 Reviews




Walmart Reviews


Amazon Reviews


Vela Contour Worldwide

Thermal Effect

Vela Contour contains 3 core ingredients for effective Joule Effect deep inside of skin layer.
With 95% high purity Lecithin, it has most similar structure to Phospholipids which is an essential part of skin cell membrane. Emulmetik 950 decreases fat deposit and cellulite by body temperature increase.
L-carnitine accelerates metabolism deep inside of skin and blood circulation.
Changes Emulmetik 950 & L-carnitine into water soluble property, result in optimal activation of each ingredient.
Vela Contour increases 0.5~1 ℃ inside of skin
This increase enables following consecutive actions.
A. Firming action with the increase of blood's flows and circulation
B. Dermo Drainage through metabolic increase
C. Activating metabolism of skin cell
D. Accelerating the regeneration of skin tissue
How To Use
---