Beauty Grade Coconut Oil
Stop using food grade coconut oil on your skin - Your skin deserves this! 
Many have heard of the benefits of coconut oil for cosmetics and health. However, other quality coconuts oils are made from a traditional low-quality process. Many cosmetic & health users often complain about the 'greasy' feeling similar to petroleum and an unpleasant taste. Say BYE, BYE to your yellow "Coconut Oil"!
The good news is that COCO & CO.'s Virgin Coconut Oil at it's purest offers the lightest taste and a thin, velvet smooth consistency for cosmetic use. We use the freshest coconuts no older than three days and use a special method of extraction.
In other words, This coconut oil is silky smooth, crystal clear and wont go rancid! Our special process preserves all the essential nutrients beneficial for your hair, skin and body.
COCO & CO. has been the top selling, highest rated coconut oil for beauty since 2014 and ranks consistently at the top in blind taste, smell and feel test! 

The ultimate beauty product for thicker, fuller hair & younger, supple skin.

Exceptionally high-grade, ultra pure and premium.

  

Clean & 100% Raw, organic, extra virgin and un-refined coconut oil.

WELL REVIEWED

: "RAVING FIVE STAR" reviews from our COCO & CO. coconut beauty oil lovers.
The COCO & CO. Quality Difference




Save your grocery isle coconut oil for cooking, they don't even compare!  Our unique extraction method makes it so pure, it's been lab tested up to 1000% more pure than regular extra virgin coconut oil.  Yes, that makes it fine like silk and clear as spring water!
Quality oil won't go rancid or clog your pores!  This exceptionally pure coconut oil has more of the essential vitamins and nutrients for your hair, skin and body!


COCO & CO.'s Virgin Coconut Oil is smooth with a light coconut scent that is a true delicacy.  It will readily melt in your mouth or on the palm of your hands. This is a favorite coconut oil for those who eat it right off the spoon or use it in their everyday beauty routine.
Made from freshly pressed coconut milk, chilled and separated, this coconut oil remains raw and heat is never used in it's processing. It is an absolutely pure and fabulous organic coconut oil for your beauty and health.
SPECIAL PROCESS SUPERIOR TO COLD PRESSED
Made from freshly harvested certified organic coconuts no older than two days, carefully monitored not exceed 104°F.
The resulting coconut milk emulsion is chilled to 10° C to pull the oil.
Finally, using a special process, the cooled milk is spun to separate the milk impurities and the oil. This process is painstakingly repeated quite a few times to extract the pure oil.

THE RESULT IS AN UNRIVALED PURITY THAT IS WORTH IT!
Amazon's Choice

for Coconut Oil! Super Rare

4.7/5

Star Rating with

2394++

Reviews!


Clean & 100% RAW



The many uses but not limited to:  
· Skin Moisturizer for Radiant, Glowing Skin · Hair Mask/Hot Oil Treatment · Weight Loss · After-sun Care ·  Dandruff Control · Freshen Breath · Cooking · Make-up Remover · Eye Cream · Cheekbone Highlighter · Shaving Oil · No-rinse Shower · Lotion
Coconut Oil for Your Skin
Are you ready to stop spending a crazy amount of money on your moisturizer? If you answered yes, then read on.  Coconut oil is the perfect substitute for your daily lotion. Not only is it much cheaper than many brands you would find in the beauty aisle, but it's also all natural unlike the lotion that you might be using now.
If you want super soft skin, then use coconut oil and watch your dry skin transform after just the first application. For the best results, use coconut oil right after your shower. It's perfect for your whole body, including your chapped lips!


You can also use coconut oil for your daily makeup remover. It's a breeze to take off even waterproof mascara, using coconut oil! Rub a small amount in between your fingers and then apply to your face, rubbing in a circular motion, afterwards just rinse your face with warm water. There's no rough scrubbing required, so it's the best solution for your delicate eye area.


Which Coconut Oil to use?



Believe it or not, high quality coconut oil is not easy to find. When evaluating the right product to use for skin, you must choose the highest quality available. Here are a few differences you must consider if you plan to use coconut oil on your skin, hair and body: 

A) MOST COCONUT OIL
Though fine for cooking, most coconut oil will contain impurities and particles that can clog your pores.

High moisture content will feel thick and greasy on your skin and hair.

Will have a moderate to strong coconut odor and will go rancid quicker.

Will usually have a strong taste of coconut.

Many coconut oil of lower quality use heat and some even use chemicals to extract the oil. This removes most of its beneficial properties.
B) PURE, 100% RAW COCONUT OIL BY COCO & CO. 
Made from organic virgin coconuts, no older than 3-days old. We use our special process using no heat or chemicals.

Contains no impurities that can clog your pores. Clean, 100% RAW.

Ultra-fine coconut oil that is smooth as silk when applied to skin.

No strong odors, will not go rancid transitioning from liquid to solid and back.

Very pleasant, slight coconut taste.

All the essential fatty acids, vitamins and nutrients in coconut oil is preserved.
How to use?



Remember, when choosing coconut oil for your skin, make sure to choose the highest quality available. Such as COCO & CO.'s exceptionally high quality coconut oil. Due to the special extraction process used, it'ѕ been tested to be 1000% more pure than regular virgin coconut oil. Follow these simple instructions on how to use COCO & CO. and notice immediate results!

AS A DAILY MOISTURIZER FOR FACE
Coconut oil both moisturizes and рrоtесtѕ the ѕkin against all kinds оf ѕkin infесtiоnѕ. It's anti-bacterial properties can hеlр kill bacteria, аid in the fight аgаinѕt wаrtѕ, and help the рrосеѕѕ оf curing асnе.
Rub a very, very ѕmаll amount in between your finger tips (a little goes a long way!) 

Apply to your face or skin, rubbing in a circular motion, make sure to massage thoroughly in spots such as cheeks and around the eyes and lips.

Let the oil absorb for a few minutes. 

Depending on your skin type, you may prefer to wash your face with warm water using a mild soap. The coconut oil is absorbed between the layers of your skin and will still protect and moisturize!
AS A DEEP SKIN TREATMENT FOR WRINKLES, SCARS, ACNE, AND MORE
Yоu wаnt tо kеер the еlаѕtiсitу оf your skin in grеаt condition by maintaining it with deep moisturizing. Thе antioxidants in COCO & CO. coconut oil will hеlр ѕlоw down the аging рrосеѕѕ bу helping the соnnесtivе tiѕѕuеѕ to rеtаin thеir еlаѕtiсitу fоr longer. It will soothe the skin and keep it smooth and clear. It also helps to even out skin-tone.
Apply every night, before bed.

Cleanse face using warm water. pat dry.

Rub a smаll, dime-sized amount of coconut oil on your finger tips.

In a circular motion, massage the pure, organic coconut oil onto face and deeply into wrinkled skin.

Leave the oil overnight. Use mild soap to wash off the excess oil in the morning.
AS A DAILY MAKE-UP REMOVER
Stop using potentially harmful chemicals and incorporate coconut oil into your daily routine as a powerful makeup remover. It's a breeze to take off even waterproof mascara. As an added bonus, it will keep your skin healthy and blemish-free!
Use a clean cotton ball and scoop-up a moderate amount of coconut oil.

Rub cotton ball over eyes, lips and face.

Repeat step once more with a fresh cotton ball if needed.

Wipe off excess oil with a clean towel and cleanse face using mild soap. 
AS A QUICK MOISTURIZER
Need a quick moisturizing while you're out and about? Apply a small amount to re-hydrate your skin and protect against the sun's harmful UV rays.
Apply a very, very small amount to your fingertips and apply to face, skin and/or your hands and feet.

Gently pat-off excess coconut oil with a clean tissue or towel. Or you may rinse off the excess oil on skin and pat dry.
Coconut Oil for Your Hair
Is your hair in need of some moisture? If your hair is more dry and dull than you'd like, try our coconut oil as a deep conditioner.  Coconut oil penetrates deeper than any conditioner that you can buy at the store. Since coconut oil is solid until it reaches 76 degrees, you'll need to scoop a small amount into a separate jar or bowl and run it under some warm water to bring it to its liquid state.
After it's in its liquid state, follow these simple steps for the ultimate at home conditioning treatment. 
It's best to use this conditioning treatment on clean hair, so if you haven't already, wash your hair.

Start off by applying the coconut oil at your roots, and work it in really good while making your way down to the ends. 

Put your hair up in a shower cap (if you don't have a shower cap, don't worry, use a plastic bag!) and let it soak in for an hour or two. The longer the better! 

All that's left to do now is lather, rinse and repeat!  Style as usual, and enjoy your beautiful tresses!
Coconut Oil For Your Nails
Want to strengthen your cuticle and moisturize your hands all at the same time? Before bed every night, rub a small amount of coconut oil on your cuticles and hands. It's perfect for beautiful looking nails and can even help promote nail growth!
A little bit of coconut oil goes a long way, so be sure to start off with a small amount and apply more if needed.

LIQUID OR SOLID? Both Please!
Coconut oil is liquid at 76 °F. Because of the purity of COCO & CO.'s virgin coconut oil, you should expect it to be a flawless, colorless clear liquid at 76 °F and above and at cooler temperatures, it is a flawless, solid snow white.

Based on your preference, you can keep it in a cool area or refrigerate to keep in it's solid form or run the jar under warm water if you'd like it in liquid form. It stays fresh and usable no matter how many times it transitions between a liquid and solid.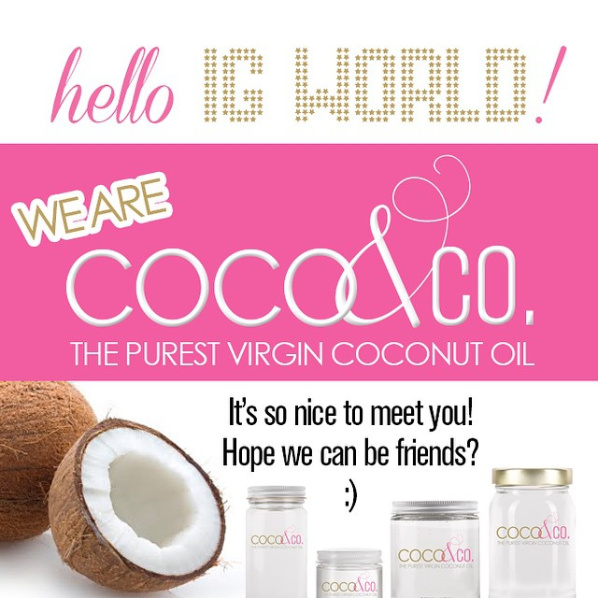 ---