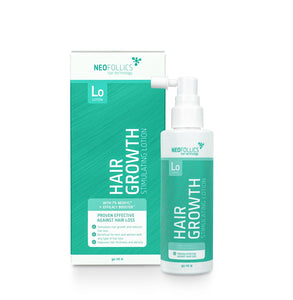 Neofollics Hair Growth Stimulating Lotion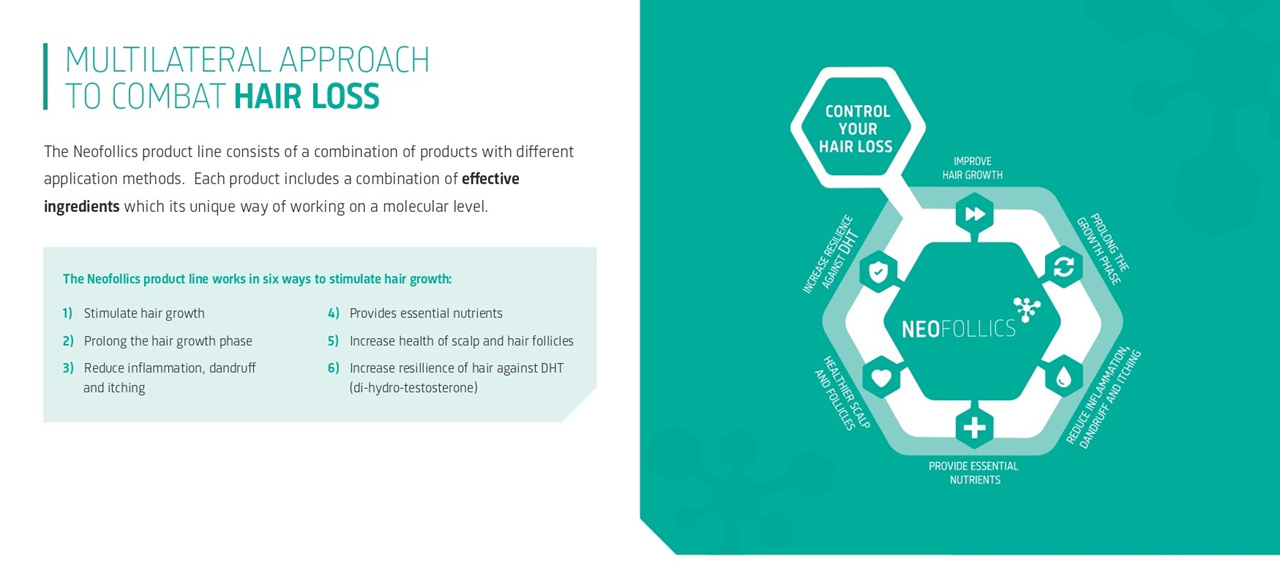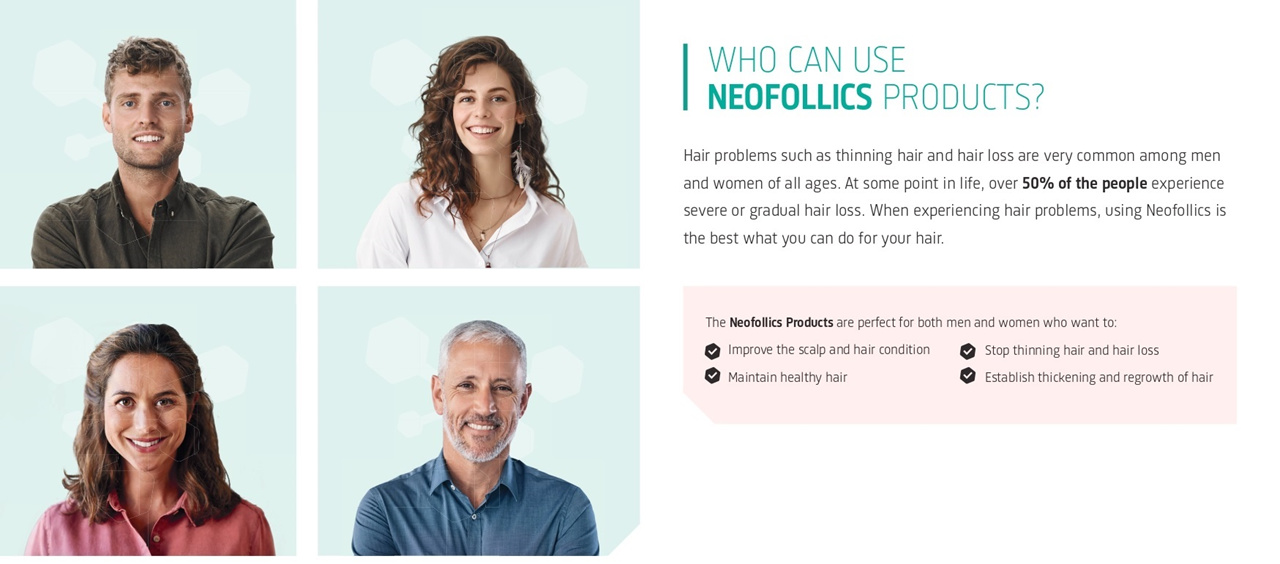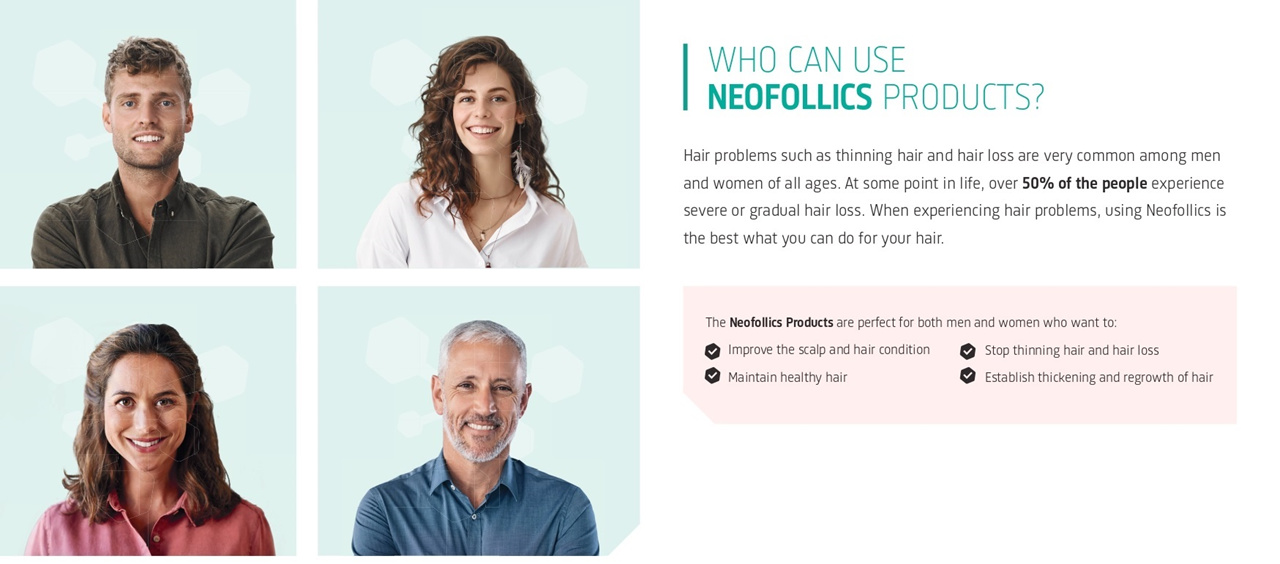 _____________________________________________________________________________________________________________________________________________________________________________________________

Neofollics Hair Growth Stimulating Lotion


+41% MORE EFFECTIVE THAN MINOXIDIL

The Neofollics hair growth stimulating lotion is perfect for any man or woman who:
- Suffers from thinning hair or hair loss, in a early to advanced phase
- Want to stop hair loss and stimulate hair growth
- Wants a topical lotion with results and no side effects
- Wants a lotion that is pleasant to use
- Experiencing Side Effects From Minoxidil

- More Effective Hair Growth Solution than Minoxidil


Clinically proven
Neofollics lotion has been clinically tested in various scientific studies, which show that it has a positive effect on hair growth.
A long-term study on users with hair loss shows that Neofollics lotion causes a reduction in hair loss and an increase in hair density. Significant improvements were seen in all key indicators of effectiveness. 92% of users noticed an improvement in their hair situation.


In a laboratory study, the effect of Neofollics lotion was measured on the growth of human derma papilla cells (HDPCs). This is an important indicator for hair growth. This study showed that the Neofollics lotion caused a 96.8% increase in cell growth. This is nearly double when compared to the untreated cells. It indicated that Neofollics lotion significantly promotes cell multiplication in human dermal papilla cells.
The effect of Minoxidil has also been measured for comparison and showed an increase of only 68.3% in cell growth. The Neofollics lotion has a + 41% higher value than Minoxidil. This comparison shows that Neofollics lotion is more effective.

Active ingredients
The lotion contains a combination of 10 scientifically proven ingredients that treat hair loss in multiple ways. This is further explained below:

Neoxyl® hair growth complex
The Neofollics hair growth stimulating contains 7% Neoxyl®. This is a hair growth complex, or a combination of active ingredients. Each active ingredient has been selected on the basis of scientific research to tackle hair loss in multiple ways.

Hair growth molecules
Neoxyl® contains the hair growth molecules Adenosine, Vividine® and Aminexil®. These molecules have a similar effect as Minoxidil, but without side effects.


Vividine: stimulates hair growth in multiple ways. Vividine allows for potassium channel opening (PCO), just like Minoxidil. This causes the hair to enter the growth phase quicker and for the growth phase to last longer. Vividine also stimulates the blood supply to the hair follicles, allowing nutrients to reach the follicles more easily.
Aminexil: prevents hardening of collagen around the hair root, making the hair roots anchor themselves more firmly into the scalp, thus reducing hair loss.
Adenosine: studies show that applying a solution of Adenosine on the scalp can allow for improved hair growth in both men and women. Compared to Minoxidil, users are more satisfied using Adenosine in the prevention of hair loss. And unlike Minoxidil, Adenosine does not have any side effects.

Plant extracts
The plant extracts in the Neoxyl® hair growth complex have a positive effect on hair growth in various ways. An important mechanism of action is the inhibition of dihydrotestosterone (DHT). The conversion of testosterone to dihydrotestosterone (DHT) is an important cause of (hereditary) hair loss. DHT damages hair follicles that are sensitive to DHT, causing them to produce less and thinner hair.


Ecklonia cava: a seaweed from the waters of South Korea. Ecklonia cava is a natural alternative to finasteride and minoxidil. It contains a high concentration of the substance Dieckol, which has a DHT lowering effect and a high concentration of Dioxinodehydroeckol, which stimulates hair growth. Read more in our article Ecklonia cava: a natural alternative to finasteride and minoxidil.
Raspberry ketone: an extract from raspberry. Raspberry ketone can increase the production of IGF-1 (an insulin-like growth factor), which stimulates the growth of the hair follicle. Studies show that a very low concentration of this substance already has a significant effect on hair growth. Read more about Raspberry ketone.
Carthamus tinctorius: a thistle-like plant. Carthamus tinctorius stimulates hair growth in different ways and suppresses growth factor B-1, a peptide which is associated with hair loss.
Sanguisorba officinalis: a plant that belongs to the rose family. Sanguisorba officinalis stimulates hair growth by prolonging the growth phase of the hair follicles. It suppresses Fibroblast Growth Factor-5 (FGF-5), a natural protein that plays a role in the (too rapid) transition of the hair from the anagen to the telogen phase.
Proanthocyanidin B2 (Grape seed extract): a polyphenol from grape seeds. It allows for extending the growth phase, which provides for longer hair, and a higher density of the hair.
EGCG (Epigallocatechin gallate): a polyphenol from Green Tea. EGCG inhibits the process of 5a-reductase. This makes it a natural DHT inhibitor that stimulates hair growth.

Copper tripeptide-1: this substance can improve blood flow to the scalp and reduce inflammation of the scalp and hair follicles.



Efficacy Booster ™: more effective absorption into the scalp
The Hyaluronic Acid and Liposomes in the Efficacy Booster ™ ensure that the lotion can be properly absorbed into the scalp, allowing the active substances to reach the hair follicles and do their job.


Hyaluronic acid: an endogenous substance that falls into the category of glucose building blocks. It improves the absorption of lotion in the scalp.
Liposomes: incorporate active substances in nano-capsules, so that these can be more easily transported to the hair follicles.



Mild and pleasant to use
Because a lotion is applied directly to the scalp and left to soak in, a lotion is a very effective treatment against hair loss. The use of a lotion requires a little more work and dedication than for example a shampoo. Therefore it is important that a lotion is as easy and pleasant to use as possible and of course gentle for the scalp.
The Neofollics lotion has been dermatologically tested and does not contain any colorings, fragrances, propylene glycol, parabens etc. Any possible irritation or sensitization of the scalp is thereby reduced to a minimum.
The lotion is quickly absorbed, not greasy or sticky. Moreover, the bottle has a good quality sprayer that simplifies application. The large bottle of 90 ml contains enough lotion to be able to make use of for a month.

Usage
Apply the recommended amount of lotion to the scalp where the hair is thinning:
Crown: 3 sprays

Top: 3 sprays

Temples: each 2 sprays
Massage the lotion into the scalp and let it be absorbed by the skin. Do not wash the hair within 3 hours after the treatment. Use of styling products is possible after the lotion has been absorbed.
Perform the treatment twice a day for best results, preferably in the morning and in the evening.
After use, place the cap back on the nozzle.
With a lotion, it is important to apply it generously to compensate for the 'loss' of lotion in the hairs. With the bottle of 100 ml you will have enough lotion for at least one month and to use it royally.
After three months, the first effects can be observed. The hair loss should be decreased and new hairs are starting to grow back stronger and thicker. The effect will be stronger during the course of 6 to 12 months. Continue the treatment in order to maintain the results.

______________________________________________________________________________________________________________________________________________________________________
FREQUENTLY ASKED QUESTIONS


I read that Neofollics lotion has a new formula, what can I expect from this?
Neofollics lotion does indeed have a new formulation. Apart from a new package, it also has an advanced hair growth complex 7% Neoxyl®. This contains many of the active ingredients that made Neofollics lotion so well rated, but combines them in a more effective way and in a higher dose. Existing Neofollics lotion users can therefore safely continue with this improved formula, while new users can assume that they will get the best hair growth lotion on the market.
Because the lotion is more high dosed and more effective, there is slightly less content in the bottle and it has become slightly more expensive. However, Neofollics lotion still a larger content and a lower price than all other good hair growth lotions on the market.
Furthermore, the Neofollics lotion has also taken steps in terms of user-friendliness, making it more suitable for women and people with long hair. You can read more about this below.
Is Neofollics lotion suitable for long hair?
The new formulation of Neofollics is much more pleasant to use than before. It is a transparent lotion that is absorbed within seconds, is not sticky and does not make the hair greasy. Because of these improvements, this lotion is now also very suitable for use by people with long hair.
Is Neofollics lotion suitable for female, hormonal, hair loss?
Yes, the Neofollics lotion is suitable for all forms of hair loss. The powerful formula also works well against hormonal hair loss. Because the lotion is now more user-friendly for people with long hair, it has also become much more suitable for women.
Can I use Neofollics lotion in combination with my current lotion?
The lotion can be combined with other lotions for hair growth, for example by using one in the morning and the other in the evening. It is not recommended to apply both lotions at the same time.
I want to start using this lotion. Can I immediately switch from my current lotion to Neofollics lotion?
If you are currently using a lotion and you are looking to switch to Neofollics lotion, we advise you to first use both lotions for 2 weeks. For example by using Neofollics lotion in the morning and a Spectral lotion in the evening. After these 2 weeks, your skin will have gotten used to it and you can start using the Neofollics lotion twice a day.
Will this lotion last longer, because it's 90 ml instead of 60 ml?
Most lotions contain 60 ml, enough for one month. Applying a lotion generously can give a more powerful effect. This is why Neofollics opted to use a larger amount per bottle for maximum results. How long a lotion lasts mostly depends on the area that requires treatment. If you only treat your temples or crown, a bottle will last you longer than 2 months.
What other products can I combine Neofollics lotion with?
Neofollics lotion combines well with other products against hair loss, such as a shampoo. In order to adjust the treatments to one another as well as possible when it comes to active ingredients, we recommend combining the products from the Neofollics range. Here is what we recommend at different stages of hair loss.
I read that Neofollics shampoo has a new formula, what can I expect from this?
Neofollics Shampoo does indeed have a new formulation and packaging. What can you expect from the new formulation?
An improved washing effect means that now even less shampoo is needed to remove impurities and to clean the hair and scalp.

The formulation has been made milder, in order to further reduce the drying of the scalp when used daily.

The perfume in the previous version has been replaced by natural ingredients: extracts of rosemary and mint give the shampoo an attractive and natural scent.

The new Neofollics Shampoo contains a higher concentration of active ingredients that help to promote healthy hair growth.
Can I switch to Neofollics shampoo just like that?
You can start using Neofollics shampoo immediately.
I notice my hair is becoming dryer. Is this right and what can I do about this?
The ingredient Piroctone olamine in the shampoo may, just like Ketoconazole, dry out the hair and scalp a little. When you experience these symptoms, we advise you to use a conditioner after washing (eg. Neofollics conditioner). You can also decrease the frequency. Remember that the shampoo only works optimally when it is used at least three times a week.
Can I use Neofollics shampoo in combination with another shampoo?
Neofollics shampoo can be used in combination with any other shampoo. When experiencing dry hair, Neofollics shampoo can best be alternated with a nourishing shampoo that does not contain Ketoconazole, such as Regenepure NT or Beaver keratin shampoo. Combining a shampoo with Ketoconazole with Neofollics shampoo might be too strong a combination since Neofollics shampoo contains Piroctone olamine, a substance with a similar effect as Ketoconazole.
The shampoo does not foam as much as I am used to. Is this true?
If you are already used to using a sulfate-free shampoo such as Revita or Regenepure DR, you will know that a good shampoo does not foam as much as a regular shampoo. If you are used to using a regular shampoo from the drugstore, you may notice it doesn't foam as much. This is because a high quality shampoo does not contain any SLS. SLS is a chemical cleaning agent that causes the foaming effect
When using the Neofollics shampoo, it is recommended to first degrease the hair with a small amount of shampoo. Next, you apply a more generous amount of shampoo. You will see that the shampoo is easy to distribute over the scalp and the hair. This is why it's a good thing that the shampoo contains 250 ml, making it possible for you to actually use a generous dosage and still make it last long.
Which products can I combine Neofollics shampoo with?
If your hair loss is at an early stage, using just a shampoo may suffice, preferably in combination with a nutritional supplement.
When your hair loss is at an advanced stage, we recommend using a multiple approach to combat hair loss with shampoo, lotion and a nutritional supplement. In order to adjust the treatments to one another as well as possible when it comes to active ingredients, we recommend combining the products from the Neofollics range. Here is what we recommend at different stages of hair loss.
Can I use the Neofollics Tablets together with the Neofollics Anti-Grey Hair Tablets?
The Neofollics Hair Growth Supporting Tablets can be combined with the use Neofollics Anti-Grey Hair Tablets without any issues.
---