Coflu Remedy Powder 康福颗粒 (清冠一号)
*Authorized Distributor*
Coflu Remedy Powder 康福颗粒
10g x 15 sachets
产品特色
• Indication:
帮助解外感、改善呼吸不顺畅、清肺、退烧、止咳、缓解头痛及肢体酸痛、缓解喉咙痛、止鼻涕。
~ Help clear external pathogenic contractions, ~ ~ Help improve shortness of breath,
~ Help clear lung, help relieve fever, help suppress cough, help relieve headache and body pain.
~ Help relieve sore throat, help stop runny nose.
Function:
解表宣肺、清热解毒、宽胸化痰、和胃降气。
Release the exterior and diffuse the
lung, clear heat and detoxicate, soothe the chest to dispel phlegm, harmonize the stomach and
downward qi.
Active Ingredients:
Indigowoad Root
Trichosanthis Fructus
Heartleaf Houttuynia Herb
Scutellaria Root
Magnolia Bark
Fineleaf Nepeta Herb
Mulberry Leaf
Peppermint Herb
Saposhnikovia Root
Baked Liquorice Root and Rhizome
• Package: 10 grams granules per sachet /10g一包
15 sachets per box (total 150grams)/ 15包一盒
• Direction:
成人每次1包(10g),一天3次。三餐饭后半小时服用。可直接口服或搭配 400cc 开水服用。
Take 1 sachet(10g) 3 times daily directly or with 400cc water half hour after meals.
‐ Swallow the content directly or 直接口服
‐ Dissolve the content in cold water then drink it 冷水即溶。
多重保护、防御升级
• 调整状态、帮助你
• 单包茶包设计,方便携带,自饮两相宜
• 纯天然无添加
临床实验服用8-10天能有效抑制感染、影响细胞复制、调节波动。
• 免煎服服溶颗粒剂型,易装易冲服,适合吞咽。
• 单包设计,方便携带,随身防护良伴。
• 高品质PIC/S GMP制程,遵守各地安全规范。
根据向当局提呈的资料允许作为中成药销售,谨慎选用
Allowed for sale as a Chinese Proprietary Medicine based on information submitted to the Authority. Consumer discretion is advised.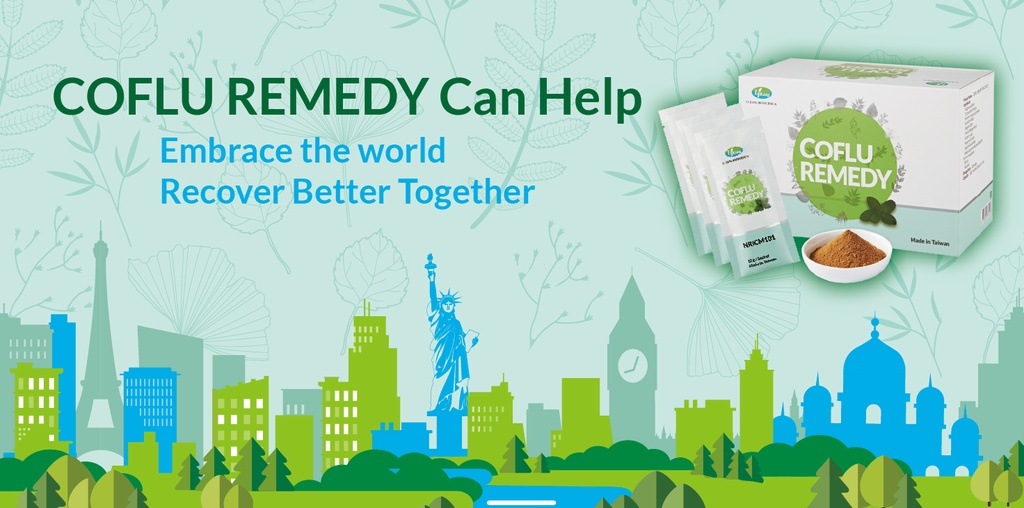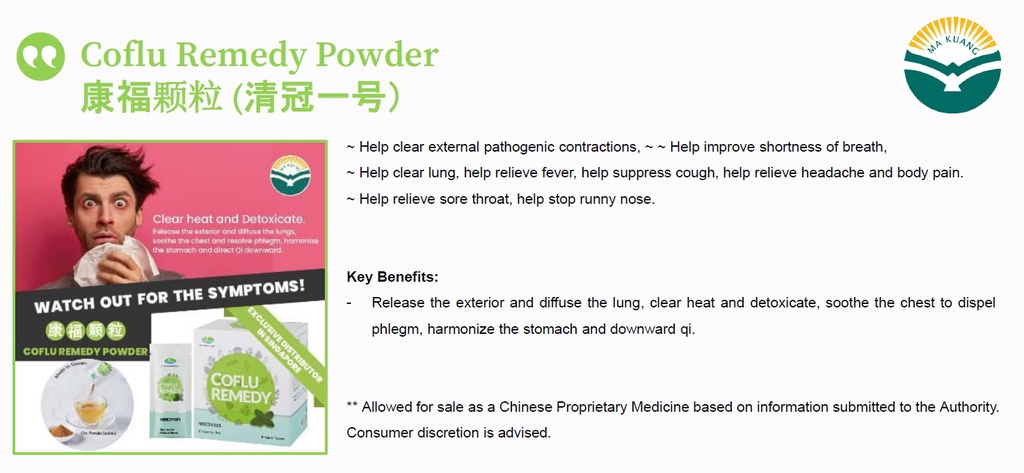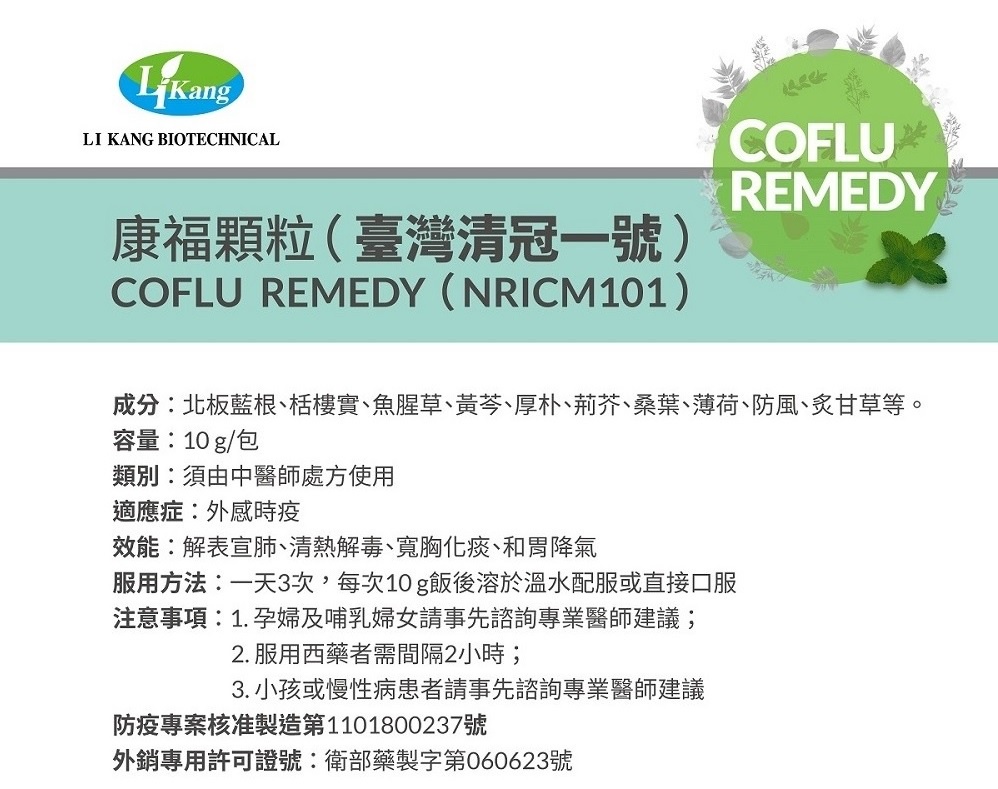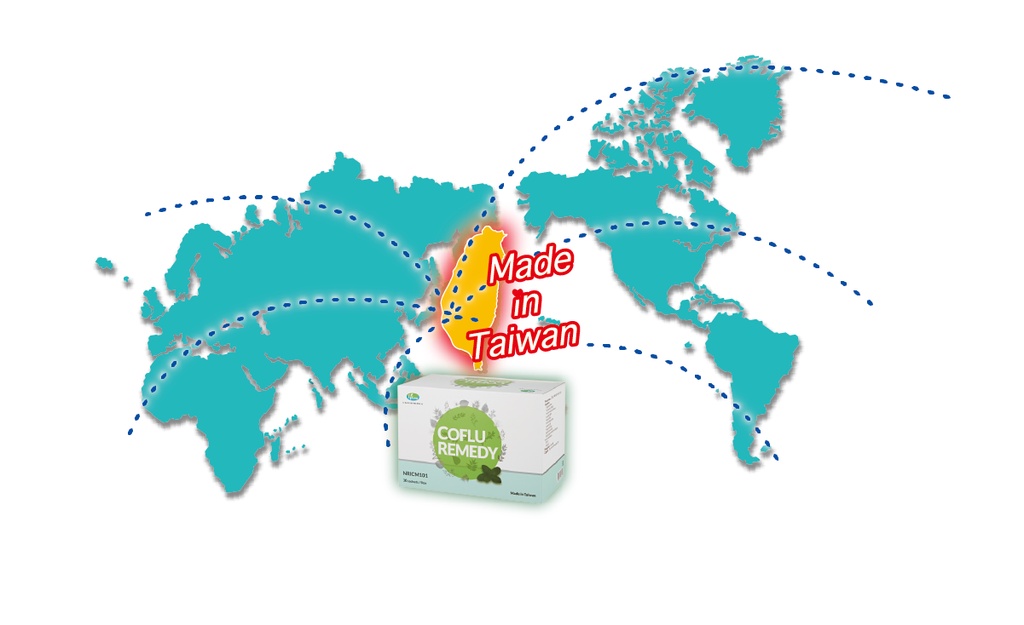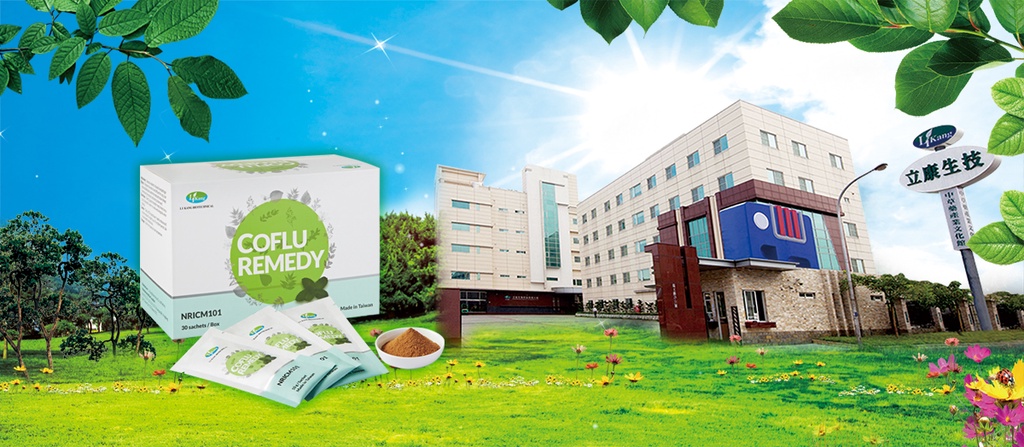 ---